Thousands of Watford residents have already booked and received their Oxford/AstraZeneca vaccination, supporting the town's efforts to reduce the Covid19 infection rates, protect the NHS and save lives.
Local health boss Dr Jane Halpin is encouraging everyone from Hertfordshire and west Essex to protect themselves, their families and their communities against COVID-19:
"Some people have told us they like to be able just to turn up at a vaccination centre, particularly those with unpredictable work schedules or family commitments. That's why we're offering more of these clinics in the days ahead.
People aged between 34 and 39 are now eligible to have their first Pfizer or Moderna vaccination. The majority of Pfizer clinics have to be booked in advance, but there are some 'pop up' Pfizer clinics in Hertfordshire available without an appointment
"If you prefer the certainty of a guaranteed booked appointment at a particular time you can call 119, use the National Booking Service website. Vaccinations at the Town Hall are by appointment only and people should wait to be called before attending any vaccination centre.
And you are aged 50 or more, or in a priority group*, you are now being encouraged to get your second jab as soon as eight weeks have passed.
The full list of local clinics offering vaccinations without appointments in the days to come can be found at this address: https://covid.healthierfuture.org.uk
Peter Taylor The Mayor of Watford was among the people to receive a Covid-19 vaccination jab at the centre on February 16.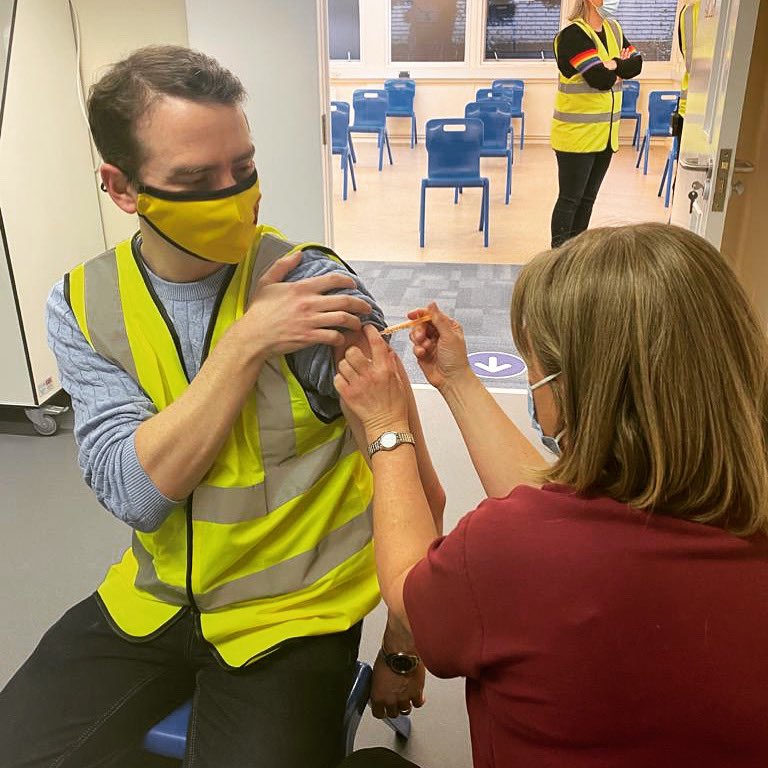 Health conditions and coronavirus (COVID-19) vaccination
The following charities have worked with the NHS to produce advice about the coronavirus (COVID-19) vaccine and certain health conditions.
If you have a health condition that means you are eligible for the COVID-19 vaccine, or you are an adult carer, the NHS will contact you to arrange your vaccination appointment.
Arthritis and related conditions
Asthma
Blood cancer
Cancer
Diabetes
Epilepsy
Heart disease
HIV
Kidney disease
Learning disabilities
Liver disease
Lung conditions
Lupus
Mental illness
Multiple sclerosis (MS)
Scleroderma and Raynaud's
Sickle cell
Stem cell transplant
Stroke