Hertfordshire residents have donated in abundance for the Afghan refugees arriving in Hertfordshire
Around 200 people who have fled Afghanistan are currently being housed in two hotels in Hertsmere.
A Hertfordshire synagogue has thanked people from all over the county after it was inundated with donations for newly arrived Afghan families. 
A property development company with offices in Radlett and Borehamwood is also coordinating an aid programme to collate and donate urgent supplies to Afghan refugees who are already arriving into the area from Kabul.
Pressure on asylum and refugee accommodation is likely to increase due to the influx of Afghans fleeing the Taliban.
The government says the Afghan Citizens' Resettlement Scheme will aim to allow 5,000 Afghans to settle in the UK, with the long-term goal a total of 20,000.
Rabbi Elchonon Feldman, who met refugee families on Friday, took to the shul's Facebook page to asking for "sorters and schlepers" to assist the sorting process.
He told the BBC exceeded "anything we could have predicted", and the community "recognise that our grandparents came into this country as refugees and all we're trying to do is pay it back forward" and show "gratitude" to the UK by "giving to those who need it now".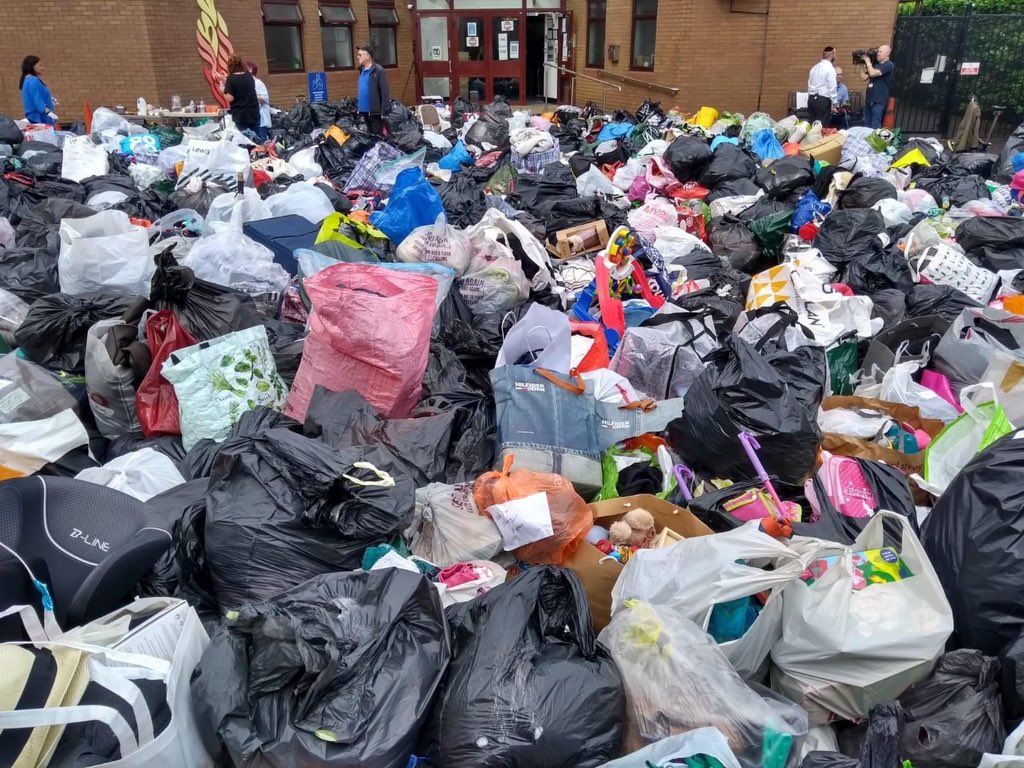 Griggs also put out a plea on Friday morning to local people to donate clothes and toys to the Afghan families, after staff at the property company had been horrified by news reports and realised many Afghans were already arriving in the area.
Mark Johnson of Griggs said: "We saw that 100s of refugees were being emergency-housed within our local community.
These poor people have escaped the Taliban and are scared and traumatised, they have arrived with only the clothes they have on their backs.
They are mostly families and there are a number of children ranging in age from 1-10.
We asked our community to help and they really stepped up to the plate: our boardroom is starting to overflow already. 
We had already purchased some basic supplies and toys this morning and took them directly to the families, but they need so much more than we could provide alone.
"Since our call for help on Friday we have been overwhelmed with the generous donations and offers to help and volunteer. Despite their horrific ordeal, these simple gifts have put smiles on the faces of these people, and hopefully helped to restore their faith in the goodness of humanity.

"We can't thank local people enough for their help – we really are proud to be part of such a caring and compassionate community. We have plenty more space at Griggs and we will also be happy to receive collections all of next week as more people arrive. I'd like to also thank Redbourne Health and Fitness and Farrells Fitness for all their help distributing the donations."
The items required include:
Basic Toiletries
Children's Clothes – All types but including warm clothes as they haven't come prepared for our British weather!
Adult Clothes – jumpers, cardigans, leggings, warm jackets etc
Food & Snacks – Ideally non-perishable
Children's Toys – Anything for ages 1-10 (GRIGGS will be supplying a big donation of toys so this is less urgent)
Colouring pens and pencils and paper
Simple books – Ideally basic educational books as none of the children speak English.
This was some of the collection of donations for Afghan refugees at @BusheySynagogue this morning. Phenomenal effort and amazing to see people of different creeds and religion all working together. Well done to all communities involved. Proud to have played a small part. pic.twitter.com/kj0NlrMvkB

— Simon Jacobs (@sjake62) August 22, 2021
Scenes at Bushey Synagogue