A train which smashed into a derailed train near Watford earlier this month was travelling at 80 miles per hour just two minutes earlier, investigators said.
Commuters were left terrified when a train bound for London Euston derailed in a dark tunnel after hitting a landslip and was then hit by another train travelling northbound.
Passengers on board described a "massive jolt" when the train came off the track near Watford junction on Friday, September 16th this month.
Crash investigators from the Rail Accident Investigation Branch said "the driver of the southbound train from Milton Keynes had made an emergency alert on the in-cab radio to warn other drivers."
Announcing that a full investigation is to be carried out, the RAIB said the landslip material which caused the derailment had slid from the steep-sided, deep cutting on the tunnel approach after very heavy rainfall during a Thunderstorm in the two hours before the accident.
The sides of the slopes were being strengthened at the time of the accident, but this work had not yet reached the location where the landslip occurred at the tunnel.
The investigation will also include consideration of:
why the landslip occurred
issues affecting the stability of the cutting slope by removing trees
knowledge of, and response to, the heavy rainfall weather forcasts.
the actions of staff and performance of safety systems between the derailment and subsequent collision
any relevant underlying management factors.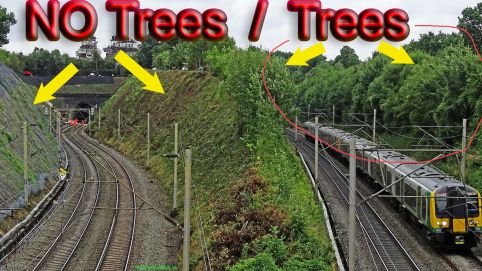 Torrential downpours: The landslide was caused by a night of heavy rain in the capital (Virgin Trains)
Thanks for stopping by. We welcome your comments.