A thousand mourners and stars from the world of football attended the funeral of former England, Watford and Aston Villa manager Graham Taylor. (Periscope video of fans)
The Family arrive with the hearse arrived at 1pm
The service was be relayed via Big video screens to those outside the St Marys Church on the high street.
The first hymn - Lead Us Heavenly Father Lead Us - was sung at his wedding to wife Rita, whom he first declared his love for aged 13.
Joanne the daughter of Graham Taylor spoke a funeral giving her memories and what she lived about her dad.
The Union Flag covered his coffin, on which his OBE was placed.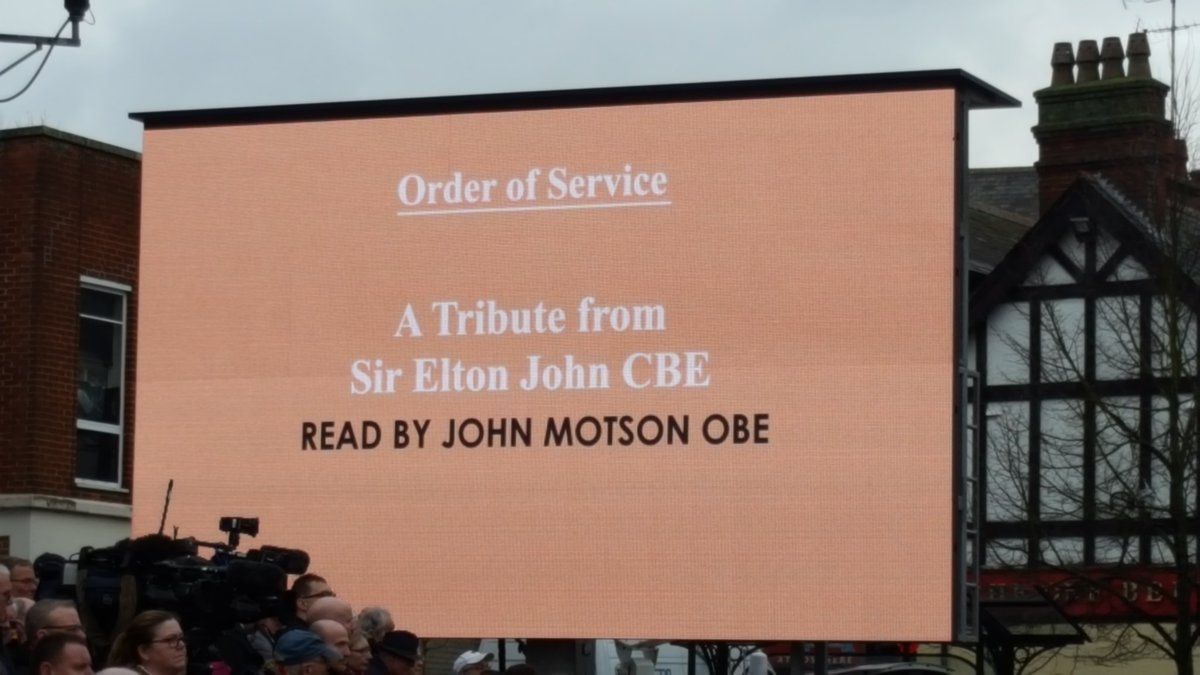 BBC commentator John Motson read a tribute from ex-Watford owner Sir Elton John who was not at the funeral.
We were like Batman and Robin: Sir Elton John pays tribute to ex-England manager Graham Taylor as the game's greats including Sir Alex Ferguson and Trevor Brooking pay their final respects
Sir Alex Ferguson, Arsene Wenger, Former England players John Barnes, Luther Blissett and David Platt and Watford captain Troy Deeney were among those who gathered at the funeral in Watford.
Church Service ends and Graham Taylor's coffin brought out
Fans Appluade Family in respect for the great graham Taylor
The "Golden Boy" is remembered at The One Bell pub in Watford
Former England star John Barnes
Tim Sherwood (left) and Chris Ramsey.
For those who are not present on the day, a tribute event is in the planning stages to be held at Vicarage Road in the summer - shortly after the conclusion of the Premier League season, which finishes on May 21.
Taylor helped unveil new community centre in November last year.
Graham Taylor's 'An Impossible Job' Documentary
Video Obituary: Graham Taylor OBE, former England manager, died of a suspected heart in Kings Langley aged 72