A 48-year-old man, and a 30-year-old man were arrested today under section 41 of the Terrorism Act after officers executed a warrant at a second address in Newport, Wales at around 05.10hrs.
Met officers, supported by Gwent police (WECTU), arrested a 25-year-old man on Tuesday at approximately 7pm at an address in Newport.
The arrests followed two others on Saturday, one of an 18-year-old in Dover as he was about to board a ferry to France, and the other of Yahyah Farroukh, 21, in Hounslow, west London who currently remain in police custody.
An 18-year-old teen male was arrested by police near the port area of Dover 07:50hrs.
A warrant for his further detention has been granted by Westminster Magistrates' Court until 23 September.
A 21-year-old man was arrested in Hounslow at 23:50hrs under section 41 of the Terrorism Act. A warrant for his further detention has been granted by Westminster Magistrates' Court until 21 September.
The 18-year-old Iraqi refugee, who was fostered by a couple in Sunbury-on-Thames, Surrey, was said to have been in frequent trouble with the police and authorities.
Footage obtained by ITV news shows the 18-year-old Iraqi refugee seen on CCTV carrying the package on Cavendish road with a Lidl bag on the morning of the attack
Commander Dean Haydon, head of the Met Counter Terrorism Command, said: "This continues to be a fast-moving investigation. A significant amount of activity has taken place since the attack on Friday. We now have five men in custody and searches are continuing at four addresses. Detectives are carrying out extensive inquiries to determine the full facts behind the attack.
"We anticipate that the searches will take some days to complete and may cause further disruption. However, it is important that we continue with these searches and I'd like to thank all those affected for their support, patience and cooperation."
Searches at two addresses in Surrey are still ongoing and are expected to last some days. The search at a commercial property in Hounslow has now concluded. We would like to thank the public for their patience and cooperation.
The attack injured 29 people, mostly superficial burns — were considered serious or life-threatening.
Peter Crowley revealed he recieved minor burns and much of his hair had been singed off.
Peter Crowley tweeted pictures of his hair had been singed off.
Initially Prime Minister Theresa May announced that the nation's threat level for international terrorism had been increased to critical, its highest level again this year.
But since the first arrest by police, the level was reduced again to severe.
London Mayor Sadiq Khan responded to the arrest, saying that
"London will never be intimidated by terrorism," he added. "We will always defeat those who seek to harm us and destroy our way of life."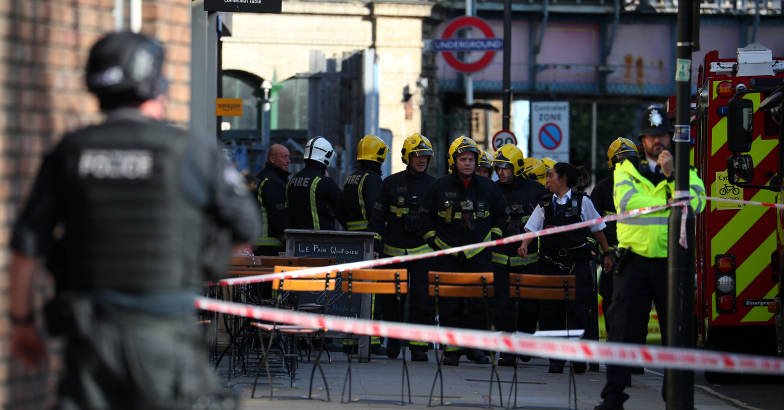 A London Ambulance Service spokesman said: 'We are on scene alongside the Metropolitan Police at Parsons Green.'
Thanks for stopping by. We welcome your comments.