Royal Court hearing to Save Farm Terrace Allotments back has been lost
Watford News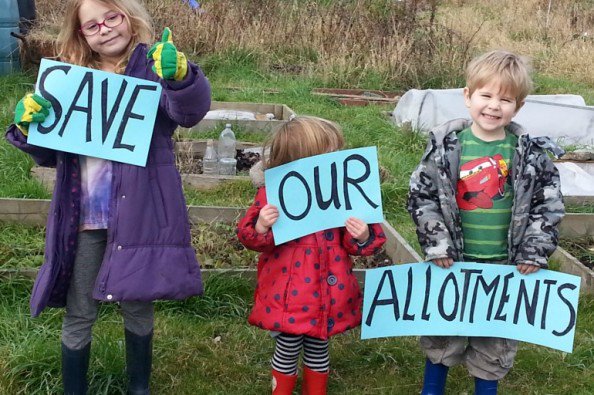 A battle to Save a local alloment in Watford went to the High Royal Courts of Justice in London on Friday.
Gardeners at Farm Terrace allotments in Watford believed that a favourable ruling would save not only their own allotments but other similar sites under threat.
Today at around 10:30 the results from Mrs Justice Lang were being receieved, and at midday an emotional video was posted (see below) with regret to the dissapointing outcome.
Mrs Justice Lang ruled on Wednesday that Watford borough council and the secretary of state for communities and local government – who backed the local authority's plans – were entitled to concrete over them, the gardeners warned that her judgment was a "developer's charter".
Sara Jane Trebar tweeted a video : Heartbroken. We lost our #allotmentcourtcase to keep our beautiful site and protect other #allotments . Short term greed wins.
Despite being "bitterly disappointed", they said that, after consultation with their legal team, they had decided not to appeal against the judgment, which will pave the way for the building of housing, a car park for the town's football club and a possible future hospital development.
Heartbroken. We lost our #allotmentcourtcase to keep our beautiful site and protect other #allotments . Short term greed wins pic.twitter.com/B46kG8xryU

— Sara jane trebar (@SaveFarmTerrace) November 2, 2016
A longer video was posted on Facebook
Watford's elected mayor, Dorothy Thornhill, who had previously described the allotments as "a really hideous, derelict site", welcomed the decision, tweeting: "Great news for our hospital and our town."
BREAKING: High Court give go-ahead for Farm Terrace to be used for WGH expansion & Health Campus. Great news for our hospital & our town!

— Dorothy Thornhill (@MayorDorothy) November 2, 2016
Under the 1925 Allotments Act, councils can build on allotment sites only if stringent rules are followed, but the government updated guidance in 2014 granting the secretary of state power to allow development of allotments in "exceptional circumstances".
n a written judgment, Lang ruled that "the interference with the ... rights of the allotment holders was justified and proportionate because of the wider public benefits to be gained".
The gardeners said after the judgment that "there is no clear benchmark for what is actually exceptional. We feel the term can and will be applied to close other allotment sites throughout the country and we are being made aware almost every week that a new allotment site is under threat of closure for development."
In a freedom of information request, Save All Allotments found that between 2007 and 2014, 194 of 198 applications to close allotments were granted by the secretary of state.
The number of allotment holders at Farm Terrace had dwindled in recent years after some people took the compensation and the 2012 closure of the waiting list. 
A speech was made outside the High Courts in London, and posted on their Facebook, and said
"This has been a very long, very passionate and very emotional case for us all.

We do not fight just for ourselves, for our plots or even our site. We fight for the future of allotments up and down the country, for the future generations of plot holders and for the protection of ALL allotments.

I have been asked many times to describe the benefits of allotments and I honestly have no idea where to start, there are so many.

To help I use the idea of an artichoke, with its many layers. Outside you have a slightly hard skin, there to protect the rest. This is the plot holder, facing the different weather conditions with a sense of commitment and responsibility. This sense of commitment and responsibility are the first benefits.

There then follows many layers; physical exercise, mental release, home-grown food, organic food, fresh air, The feel of soil in your hands, the smell of rain on the earth, a quiet place to go, a place to teach children to grow, a sense of sustainability, permaculture, wildlife, flora and fauna, meditation, green space for others to enjoy, a sense of the seasons, a respect of nature,

But at the heart of that artichoke, at the heart of allotments you have one word. Community. That is what makes allotment gardening different from Gardening in your back yard (If you are lucky enough to have one). The interaction with other plot holders. The passing on of skills, of growing tips, sharing seeds and produce. To many just a nod from another plot holder can mean a lot. For others the feeling of belonging to a community which does not judge you by the colour of your skin, the place you worship or the language you speak – is priceless.

And what a community we have here today. Not just Farm Terrace plot holders but allotment holders from all over and supporters who understand the importance of our case and its implications. I want to thank each and every one of you for travelling here today to support us, to fight for Farm terrace and to protest against the closure of allotments.

I want to thank our amazing legal team who have worked so hard for us because they understand the importance of this case. Thank you also to those at home who are doing their best to share our story and to all the hundreds of people andallotment groups who have given so much to our crown funding. We would not be here without all of you.

Whatever happens you know we won't give up!

If we win, we have to work hard to make sure this doesn't happen again to us or any other site.

If we lose, well, we will continue to fight for as long as we can.

We are not the owners of our plots, we are simply custodians. But we will not stand back and let Allotments be consigned to the History Books.

Thank you"